Top 6 Super Stocking Stuffer Board Games 2018
Posted Monday, 17-Dec-2018
Looking for stocking stuffer board games? We've got you covered!
Box corners protected by Calvin Wong
Board games come in all shapes and sizes! We compiled a list of our favorite games that come in small-enough boxes to fit in a stocking.
Cat Lady
Tuna, milk, and cat toys, plus all the cats to collect! Cat Lady is a simple card game of food, costumes, and feline companions.
# of players: 2-4
Playtime: 30 minutes
Join the ranks of such personalities as Marie Antoinette and Ernest Hemingway as players collect cat cards to try and score the most points – while also drafting sets of costumes, toys, and enough food to make sure those kitties are happy! But be careful of what you pick – unfed furry companions will score negative points instead!
Featured Review of Cat Lady
Neat. Fast. Recommended. Dice Tower Judgment: Excellent!
Buy Cat Lady for a light, elegant and cute card game of cat drafting that you can teach to anyone – a perfect stocking stuffer for the cat-lover in your life.
---
Wordsy
Push your lexological limits as you compete to complete the best-scoring word possible.
# of players: 1-6
Playtime: 20 minutes
Each round has 8 consonants on the board – Using as many of the 8 as possible, players try to score as many points as they can, hopefully using the most valuable letters to score the most points with the Wordsiest words.
Play continues over several rounds, with an optional real time mode for added alacrity! After 7 lexemes have been lettered, bonuses are added up and worst words minused – and the player with the best score wins!
Featured Review of Wordsy
Simple, brainy and utterly addictive.
Buy Wordsy for a simple word-based board game of making the best word you can that you can play with anyone – perfect for breaking out for holiday time with families.
---
Dale of Merchants 2
Dale of Merchants 2 is a deck building card game in the style of Dominion that casts players as animal merchants trying to prove their prowess by hiring different species to their cause. From the experimental Platypuses to the reckless Marbled Polecats to the aggressive Dwarf Crocodiles, stock your stalls with interesting items and get there ahead of the competition!
# of players: 2-4
Playtime: 30 minutes
Dale of Merchants 2 separates itself from other deck building games by being adorable, low on luck, and high on timing and skill. This version of the game also adds team play for four players!
Featured Review of Dale of Merchants
The small box size belies the depth of the game within, and it's a game I'm happy to keep exploring.
-Raf Cordero, Miniature Market
Buy Dale of Merchants 2 for a beautiful deck building game with a cute theme and wonderful mechanics that you can tune to your liking – the perfect mix of small box, big game.
Check Prices for Dale of Merchants 2
---
The Lost Expedition
Legendary explorer Percy Fawcett marched deep into the Amazon in search of El Dorado. He was never seen again. Your team has gone in search of the lost expedition, but now you hope to escape the jungle with the greatest treasure of all: your life.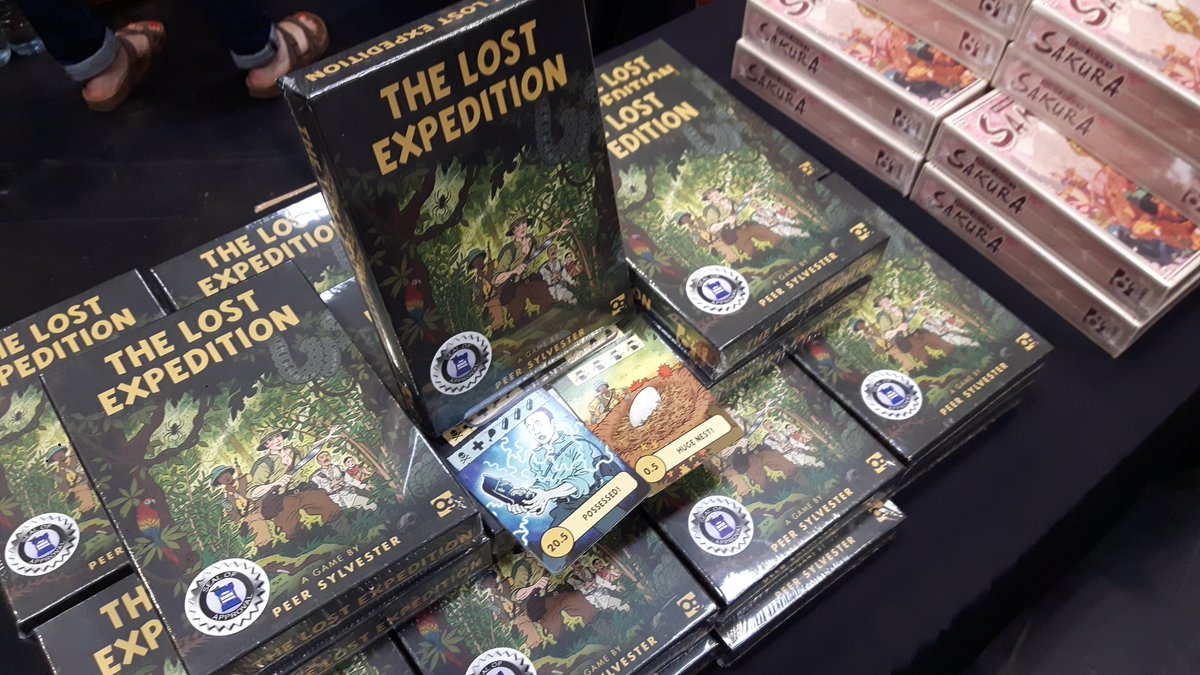 # of players: 1-5
Playtime: 50 minutes
The Lost Expedition is a card game of risk management and tough choices set deep in the jungle. With limited food, ammunition, and vitality, take your team through the jungle and carefully choose your path to prepare for the pitfalls that may befall you. Panthers, venomous spiders, rapids, and lost ruins await as you plunge deeper and deeper into the Amazon…
Featured Review of The Lost Expedition
With a minimum of components and low rules overhead, Sylvester evokes a theme of preparation and risk into uncharted dangers and discovery. One-of-a-kind.
Available to play as a solo, co-operative, or team-vs-team game, buy The Lost Expedition for a beautiful, small box card game in a lush, dangerous setting.
Check Prices for The Lost Expedition
---
Pictomania
Is that an elk, or a moose? A pegasus, or a unicorn? Pictomania is the board game of drawing AND guessing!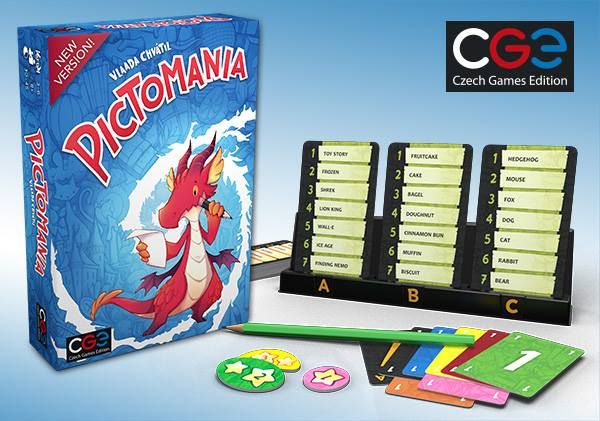 # of players: 3-6
Playtime: 40 minutes
In Pictomania by beloved designer Vlaada Chvátil, there's no time to draw a complex masterpiece – the first person to guess the other player's doodles correctly gets big points – and there's also points for having people guess yours well!
This second edition of Pictomania features revised word cards with a brand new look. One big change for this edition compared to the base game is that only three word cards are in play no matter the player count.
Featured Review of Pictomania
Our game of Christmas, our recommendation for what you play with your relatives on the day itself.
Buy Pictomania for a party board game where you use your noodle while you doodle!
---
Railroad Ink
In Railroad Ink, your goal is to connect as many cities on your board as possible.
# of players: 1-6 (per box)
Playtime: 30 minutes
Each round, a set of dice are rolled in the middle of the table, determining which kind of road and railway routes are available to all players. You have to draw these routes on your erasable boards to create transport lines and connect your cities, trying to optimize the available symbols better than your opponents.
The more cities you connect, the more points you score at the end of the game, but you lose points for each incomplete route, so plan carefully! Will you press your luck and try to stretch your transportation network to the next city, or will you play it safe and start a new, simpler to manage route?
Featured Review of Railroad Ink
Very good. A great game for groups.
Dale Yu, The Opinionated Gamers
Railroad Ink packs a huge amount of strategy in a small box – well, two small boxes. The game comes in two versions; blue and red. Each adds two new dice sets ranging from placid lakes and rivers in Blue or meteor strikes and volcanoes in Red – or combine them for an extra large session!
Buy Railroad Ink for a multiplayer puzzle game of track and thinking.
Check Prices for Railroad Ink Blue
Check Prices for Railroad Ink Red
Buy Now from Amazon: Blue & Red
Published by BoardGamePrices.com