Board Game News Brief: November 22nd, 2017
Posted Friday, 24-Nov-2017
Betrayal at House on the Hill: Legacy; a new First Martians rulebook, and Fallout The Board Game releasing next week.
Prepared by Calvin Wong
Betrayal Legacy
Prepare yourselves for horror as you've never known it.
Designer Rob Daviau of Risk Legacy and Pandemic Legacy has adapted the format to one of gaming's most beloved titles, Betrayal at House on the Hill.
Famed for its spooky atmosphere and emotional highs, Betrayal sent players through a haunted house whose layout changed every time in search of items and omens in order to unlock the mystery. The game came with 50 unique scenarios; one of your own is trying to raise the dead; or Death himself has come to the house; or explore a vast underwater lake in search of a little girl.
Betrayal Legacy will add the permanent changes and unlockable components the Legacy games are famous for. Pandemic Legacy Season 2 just hit stores and it's going to be huge, with the first game at #1 on the BoardGameGeek charts and critically regarded as a triumph.
---
Fallout releases next week
Get your power armor on.
Based on the 3rd and 4th games in the franchise, Fallout is a solo, competitive, or co-operative romp through the wasteland with players trying to complete quests, fight off deathclaws and super mutants, and level up their characters.
War never changes; but it does come to your tabletop. Look out for more Fallout coverage coming to BoardGamePrices.
The First Martians Almanac
The incredibly hyped First Martians is finally at general release! Play as astronauts on the red planet as you explore, build, and research your way out of single scenarios or multi-mission campaigns.
Addressing complaints about the game's rulebook, Portal Games has released a Digital Almanac that lays out the rules in a clear, printer friendly format with loads of examples.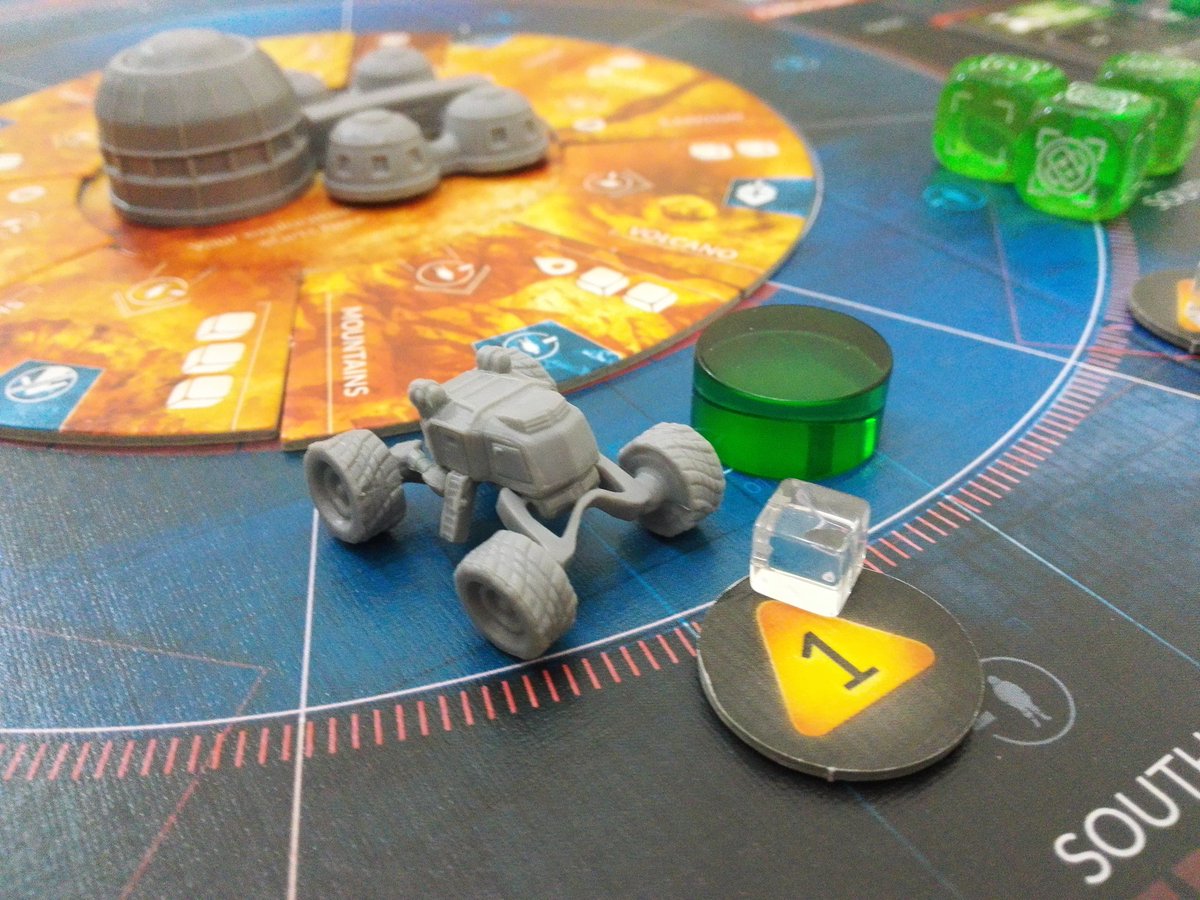 I've been having a ton of fun with First Martians; it plays fast and is fairly challenging. I'll be taking more pictures of the game (it's very photogenic) which you can find on our Twitter, Instagram, or Facebook, whichever you prefer.
Quick Kickstarters
Ravine is a co-operative survival game with an excellent style brought to you by the creators of Spaceteam.
With its low play time and simple mechanics, players must forage, share, and craft in order to survive the night and keep their bodies – and sanity – intact.
---
Folklore: The Affliction is back for a second printing. The co-operative / solo dark fantasy dungeon crawler tore up Kickstarter when it launched late 2015 and now that the game is in people's hands they want more.
Patterned like an RPG campaign style game, Folklore is a tale of werewolves and vampires and mythic fantasy in a dark realm. Go have a look.
---
Finally we have Mars Open: Tabletop Golf.
I mean come on. That's adorable.
---
Community Centerpiece
Cho Sung Won is a voice actor primarily known for his collection of videos satirizing popular video game and anime tropes – but he's now moved into board game reviews.
Along with board games, Sung Won's channel also has a ton of food reviews, unboxings, and my personal favorite, his video game comedy.
---
And that's it for the News Brief! Check out our sixty best board games you should be looking out for this Black Friday.
Published by BoardGamePrices.com