Board Game News Brief: May 30th, 2018
Posted Tuesday, 19-Jun-2018
Introducing Giant Azul, a new Star Trek game, and the third in Uwe Rosenberg's idyllic tile laying trilogy.
Brought up to size by Calvin Wong
Azul goes big with Azul Giant
Following its nomination for gaming's most prestigious award, the Spiel des Jahres, Azul publisher Next Move Games announces…
The 200% scaled up copy of the game comes with its own carrying suitcase, tile trays, and is just generally nicer.
The corresponding price bump is… significant. Pre-orders are running at $299.99 – understandable because of the limited nature of this edition and also the scale of everything involved.
It honestly looks like you could hurt someone with those tiles. If you don't have 300 cool ones to throw around, Azul is currently available for 1/10th that price at our store, and hopefully it stays that way while the Spiel des Jahres hype continues…
---
Spring Meadow
"The first delicate flowers herald the end of a harsh winter," begins the press release from Edition Spielwise, publisher of Cottage Garden, Indian Summer, and now Spring Meadow – the most interactive and strategic of the trilogy
Rosenberg's work with tile placement has been well received so far, with his titles like Feast For Odin incorporating the mechanic. Spring Meadow and the rest of the tile trilogy distill the game down to that simple satisfaction of Tetris-ing your board.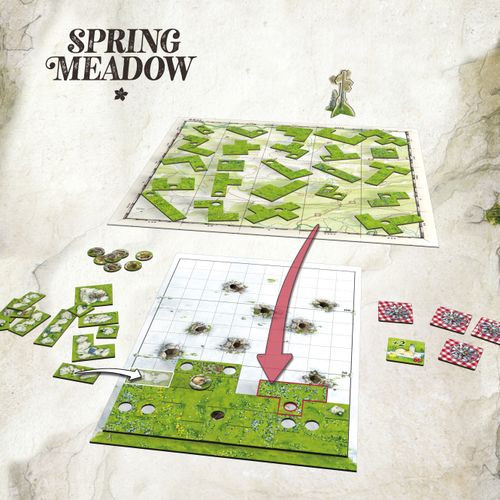 We'll know more during our Essen coverage.
---
Star Trek: Galactic Enterprises
Designer Christophe Boelinger (he of postapocalyptic tactical shooter Earth Reborn and the Carribean flung Archipelago) has a new Star Trek game coming out with Wizkids: Galactic Enterprises.
Despite the name being a little bland, the game itself sounds cool – a coven of Ferengi, profit-driven to the extreme, must negotiate and trade goods aboard the iconic Deep Space Nine station. Legal shmegal – opportunity plus instinct equals profit!
3 to 8 Ferengi buy and sell their wares, trying to monopolize a particular item for greater profit. However, once other Ferengi get those same items for sale, it becomes a matter of negotiation: Do you work together to gain the same profit, or do you agree to cooperate, then sell at a lower price to steal all the profit for yourself?
Throwing a photon torpedo into the works are secret action cards and the bad intentions of your fellow players. Boelinger has a deep love of negotiation and trust-stabbing in his designs and thus he's a great pick for this design, which hopefully will go on the shelves as one of the great Star Trek games.
---
Quickstarters
Vast: The Crystal Caverns was honored with our Game of the Month and now its sequel is on Kickstarter. A standalone edition of the game that shifts the setting but keeps the asymmetry – play as the noble Paladin, the skeleton horde, the pesky poltergeist, the giant spider, or the mysterious manor itself.
---
We don't usually do roleplaying games but Quest looks too good to pass up. A fantasy RPG that pushes back on the genre's focus on combat in favor of storytelling and accessibility, Quest has a whole range of fascinating spells, skills, and wonderful, evocative art.
---
A quirky dice plament game of funky mechanicals and weird science, Fantastic Factories is a wonderful little engine builder that's great for all ages. One of the few Kickstarters I can personally recommend, FF is cute, lightweight, and stuffed with stuff.
---
Thank you for reading the News Brief! As we ramp up to the Spiel des Jahres win announcements in July, remember to check out all the great games shortlisted or nominated for the Oscars of gaming.
Published by BoardGamePrices.com