Board Game News Brief: June 6th, 2018
Posted Sunday, 24-Jun-2018
The end of a Netrunner era, the rebirth of Warhammer Adventure Card Game, and Gloomhaven back on shelves in this week's news brief.
Licensing dispute kills Android: Netrunner
The asymmetric cyberpunk card game of dystopian hacking is dead. Or will be.
Originally a 90s collectible card game designed by Magic: The Gathering's Richard Garfield (he calls the game his magnum opus), Netrunner was licensed by Fantasy Flight Games from original owners Wizards of the Coast back in 2012. Now, six years later, it seems that Wizards has declined to renew the license, leaving FFG and Netrunner fans in the lurch
One final expansion (of which an extra large print run has been announced) and we can say goodbye to Netrunner in its current form. FFG will definitely set more games in its Android universe (thus far there have been three, all very good) and I for one can't wait to see more of this cyberpunk future.
---
Heroes of Terrinoth
Tempering bad news with good, FFG has announced a remake of the Warhammer Quest Adventure Card Game; Heroes of Terrinoth
WQACG was also lost to a licensing fallout with parent company Games Workshop when it pulled the license to the entire Warhammer series of games from Fanatasy Flight including Warhammer 40k: Conquest and Forbidden Stars.
Heroes of Terrinoth is by the same designers with the same system with a new setting, and WQACG fans seem to be very happy that their game is back.
We'll bring you more about Heroes of Terrinoth as it approaches its Gen Con release date.
---
Gloomhaven returns
No other single game makes as much seismic movement on the charts as Gloomhaven; despite a reprint of 40,000 copies, distributors and retailers alike are having serious trouble keeping the game in stock.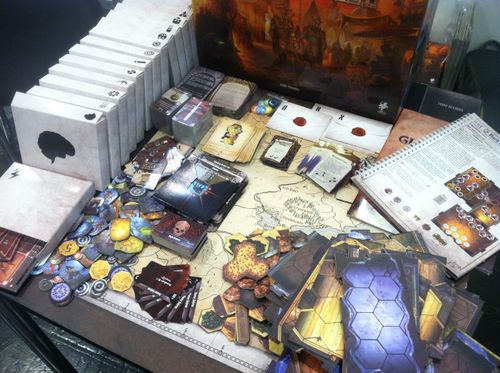 It's currently back in stock for slightly under MSRP in our store – as many of you might already know – but it felt irresponsible not to broadcast it as widely as possible.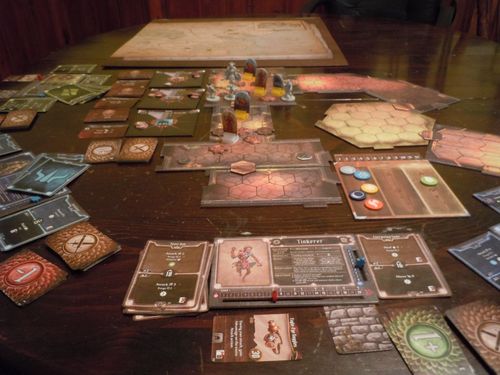 Find out why it's rocketed its way up critic's 'best of' lists and now resides as the #1 game of all time on Board Game Geek. Gloomhaven and its expansion, Forgotten Circles as well as spin off prequel Founders of Gloomhaven are all available in our store.
Quickstarters
First up: Kung Fu Panda!
What a beaut. A real time dice roller where players (as the Furious Five, natch) take on baddies in a modular dungeon. Suitable for all ages, the minis look great and a friend got a demo at Essen and said it looked pretty fun!
---
In an incredible coincidence, here is our second panda game of the week in Hidden Panda.
Billing itself as the world's cutest social deduction game of pandas and the bandits who want to steal them, Hidden Panda is an adorable, quick playing small box board game for large groups.
---
To get modern, here's Supertall.
A wallet-sized card game of upward planning, Supertall challenges players to zone their towers according to city demands and tenant requirements, packing a ton of strategy into a tiny tower.
---
And that's it for the News Brief! Thank you for reading and be sure to get your grubby mitts on Gloomhaven before the con fever swipes them all!
Published by BoardGamePrices.com