Board Game News Brief: July 17th, 2019
Posted Tuesday, 23-Jul-2019
Underwater Cities finally reprinted; war comes to Wonderland and to the beaches of Normandy, plus it's One Small Step to the moon in this edition of the News Brief.
Oxygen levels checked by Calvin Wong
Underwater Cities reprinted, expansion announced

One of the year's hottest games, Underwater Cities had faced a parched shortage of copies, but with new printing on the way, this resource management city-builder from the designer of last year's amazing Pulsar 2849 can be yours.
Here's one of our favorite YouTube channels, No Pun Included, reviewing the game.
The New Discoveries expansion has also been announced for this year's Essen Spiel, with the following press release:
The game has a number of modules which are playable as an expansion to Underwater Cities. Individual modules are not completed yet but there are planned to be new cards in each of the eras, new optional personal assistants and cards with starting resources, additional green metropolises and one big surprise…..
You can get the incoming copies of Underwater Cities in our store.
---
Wonderland's War
From the designers of Dead of Winter, Dinosaur Island: Totally Liquid, The Grimm Forest, and the Grimm Masquerade comes Wonderland's War, a game of worker placement and area control.
From the press release:
Gather the resources you need to build legendary items, gain strange tactical advantages, and recruit the infamous denizens of Wonderland to fight for your side. Each Wonderlandian you encounter offers a unique ability to help you further your goals, but will you be tempted to turn on them to push yourself ahead of your enemies? Gather your army and take them through the looking glass and onto the field of battle. Unleash your soldiers with all the fiendish tricks, powerful items, and recruited Wonderlandians to gain control of the realm and seize your destiny
The game comes to Kickstarter early next month.
---
Undaunted: Normandy
Heading to the shores of war is Undaunted, a deck-building card game of combat in the hedgerows and towns of northern France.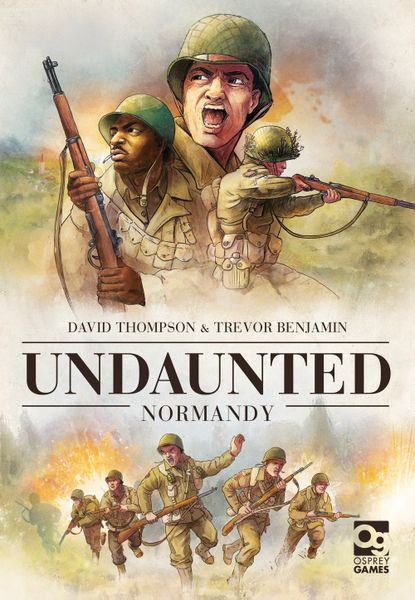 Fight as either the Allied or Axis forces. Lay down suppression, pin enemies with mortars, and control sections of the map as you battle attrition and the fog of war. More on this game as it nears release. Osprey's games have always been really good.
---
Quickstarters
The Damsel's Tale is a game of knight (plus optional knight) vs dragon. Who will you be? How will you escape? and how much treasure can you grab?
---
Squirrelin' Around was a game we saw at Essen, a 3D game of collecting nuts without knocking the tree over from Muse publishers Quick Simple Fun.
---
In time for the 50th anniversary of the Moon Landing, One Small Step takes players on a competitive space race as either the Soviet or US Space Programs; resources, personnel, missions; all are within your purview.
---
Tom Lehman is one of gaming's most prolific designers, best known for his Race For The Galaxy series and his many Pandemic spinoffs. We've created a tribute to his work in our latest Designer Spotlight.
His two newest games, Res Arcana and New Frontiers, are among our best sellers of the year with critical acclaim being lauded upon both. Check them out!
Published by BoardGamePrices.com