Board Game News Brief: July 11th, 2018
Posted Wednesday, 25-Jul-2018
Investigate cases using the real world as your guide, play an RPG in the world of The Resistance, and meet the Founders of Gloomhaven in this week's news brief.
Pieced together from clues by Calvin Wong
Detective: A Modern Crime Board Game
From designer Ignacy Trzewiczek (Robinson Crusoe, Imperial Settlers) comes a new game of true crime and true detective work.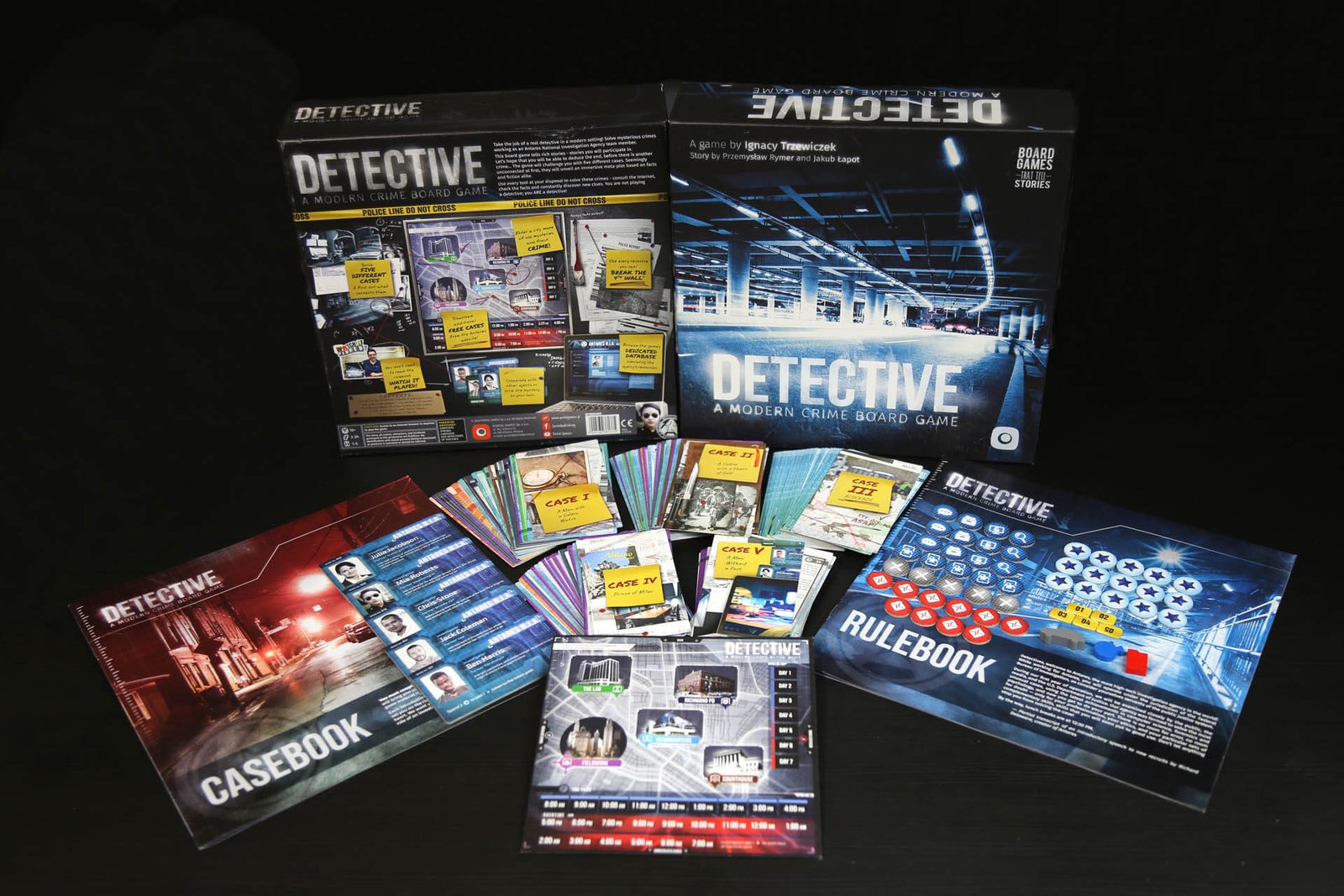 Detective (available for pre-order now) breaks the fourth wall by incorporating real-world knowledge into the game. Players must use Google Maps, web searches, Wikipedia, or any other source of knowledge in order to solve the cases – as well as a game-specific database accessible online filled with clues and info.
As app-driven gaming pushes forward, it was only a matter of time before reality itself became part of the game. Personally, we can't wait to see where this goes.
---
Founders of Gloomhaven releases at retail
A city-building game set in the Gloomhaven universe, Founders of Gloomhaven is a resource management, tile-laying board game – it is not an expansion, nor is Gloomhaven required to play it.
After a successful Kickstarter, the game is now reaching backer's hands and its retail contingent is being deployed to shelves. You can pick up your pre-order now if you've been hearing about Gloomhaven forever but aren't sure that a dungeon crawl is quite your speed.
---
The Resistance RPG
We don't usually cover RPGs on here but The Resistance is such a huge piece of gaming that we figure some of you might be interested.
Technically called The Dystopian Universe, the cyberpunk setting is shared by such games as The Resistance, Coup Rebellion: G54, and Grifters. (my personal favorite of the lot).
The RPG itself is currently in beta testing with a release due in December. You can find out more at the website.
---
Quickstarters
The second edition lights up the galaxy with new minis, new streamlined rules, new player trays, and, well… everything really. Eclipse has stayed consistently in the top 50 on BGG and is the most well-regarded sci-fi eurogame of all time. Check it out if you're into that kind of thing – personally I can never get enough space game.
Time to kick some butt with Combo Fighter
Smash, bash, and crash your way through this two player fighting game where you try and string powerful combos together. Late pledges are currently still available, so if you're looking for a classic arcade fighter fix, hit up Combo Fighter.
---
Vital Lacerda (Lisboa) hits us with a heist game in Escape Plan
The heist has gone south and the cops are crawling over the city. How much of the stash can you escape with? Featuring a wonderfully retro aesthetic and competitive gameplay, there's no honor among thieves with every criminal for themselves.
---
Thanks for reading the News Brief! We'll see you next time.
Published by BoardGamePrices.com