Board Game News Brief: April 11th, 2018
Posted Friday, 13-Apr-2018
Some incredibly hyped miniatures games, a cyberpunk card game of professional crime, and more in this week's news brief.
Glued together by Calvin Wong
Announcing Battlestar Galactica: Starship Battles
A miniatures game by Ares Games (of War of the Ring fame) that's due out at Gen Con this August, Starship Battles will come with pre-painted minis and will be based on the critically acclaimed 2004 science fiction TV series.
The show featured near-realistic space physics, intense fighter dogfights, and capital ship combat – all of which might expect to see in the game.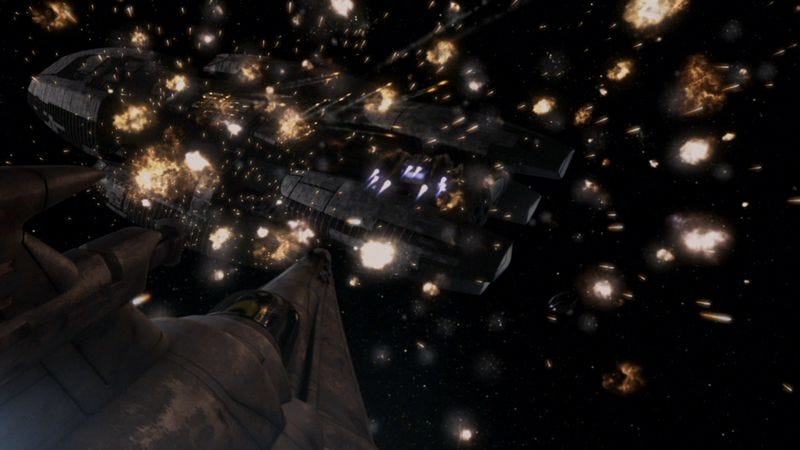 The news that it will feature pre-painted miniatures means that this is closer to a board games type project than a minis one – and the Wings of Glory system is time proven. Will Starship Battles be a hit.
Zombicide Invader launches on Kickstarter
Cool Mini or Not releases yet another Zombicide – but one that looks catered to the more strategic gamer.
Invader features all new mechanics to make the game more challenging, such as weapons that only work indoors, deployable robots, and character classes – but just like old Zombicides, they've kept all the miniatures, run and gun action, and high production quality typical of a CMON release.
Along with the shift to sci-fi, Zombicide Invader seems to be keeping to the current industry trend of diversifying its roster of characters and dressing the women in sensible future soldier armor. For those looking to get in on the ground floor on a Zombicide game, this seems like a good one to sink your bullets into
The rest of the Zombicide catalog is also available on our store.
---
Resistance-themed Grifters gets a sequel/standalone expansion.
It's no secret we're big fans of Grifters here at BoardGamePrices, with the game continuously showing up on our list of Best Card Games – so we're thrilled to hear about Grifters: Nexus.
The Kickstarter (just launched!) is for a whole new box with new characters, new jobs, and a higher level of complexity than the original game. They're currently blowing through stretch goals, so take a look if you're into a quick playing card game of cyberpunk criminals doing heists.
---
Quick Kickstarters
This week we've got Street Fighter: The Board Game, Tour Operator, and The Estates!
Street Fighter is a miniatures based combat game with several stages and GORGEOUS pre-painted minis – those things are huge!
https://www.kickstarter.com/projects/martinlooij/tour-operator
Tour Operator is a lavishly illustrated game of sending people to their dream vacations.
https://www.kickstarter.com/projects/capstonegames/the-estates
And The Estates is an auction based city building game that's not afraid to play a little dirty.
---
Community Centerpiece
Meet the kids who are organizing Uganda's second annual Village Boardgame convention this May!
Patrick, Mary, Kenneth, Joseph, Barbara and Arnold are trying to raise funds to hold a board game con in Koro, to help children learn more about teamwork, problem solving, and hold game design workshops.
If you can spare some funds, look into donating to the convention at this link.
Published by BoardGamePrices.com