Board Game News Brief: 5th September 2018
Posted Thursday, 6-Sep-2018
Lara Croft vaults onto your table with dual pistols at the ready, explore new lands in another preview of Fantasy Flight's latest; and cute animals!
Tomb Raider Legends
Square Enix (yes that Square Enix) announced a Tomb Raider board game. Confusingly called Tomb Raider Legends (not to be confused with 2006's video game Tomb Raider: Legend), the game nevertheless brings the action archaeologist Lara Croft to the table.
The game pits 4 eras of Lara against each other – from her original 90s incarnation to her 2000s era reboot and finally the modern day revival – as they compete to explore, fight, and swing their way to victory across the game's modular location board.
TR:L is due early next year.
---
Dale of Merchants Collection launches on Kickstarter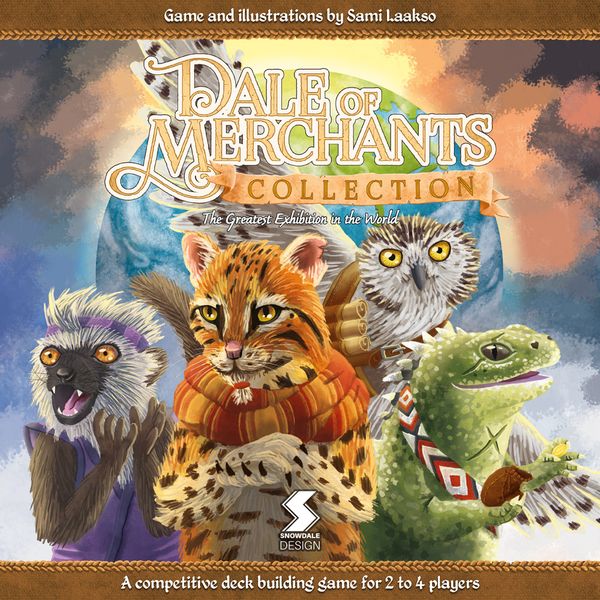 Dale of Merchants is one of our favorite card games and the new Collection expansion is here! Designed for advanced players (and FINALLY in a box large enough to store both the first and second game)
An adorable deckbuilder that can be as lightweight or cutthroat as you want, recruit wily raccoons or  well-connected penguins as you prove yourself the greatest merchant of all.
DOMC adds all new decks as well as player powers to the mix as well as six new animals, including the wealthy tuataras and mischievous tasmanian devils. You can find the game (and both prequels) on Kickstarter now.
---
FFG shines more light on Discover: Lands Unknown
The game of exploration and survival (of which no two copies are the same, read more here) has revealed more of its mechanics in a new preview from Fantasy Flight.
Each copy of the game will contain 4 co-operative and 1 competitive scenario which is specifically keyed to the contents of your box; since you're never sure which adventures or locations your copy will contain, there'll be a ton to discover.
Discover: Lands Unknown is one of the most interesting and gorgeous games of recent years – no matter how you feel about the unique box, it's great that publishers are continuing to push the envelope in new and interesting ways.
---
Quickstarters
Finally a Kickstarter I've actually played! Baa'beel is a very thinky tile laying game of location, location, location – all manner of fantasy creature has moved in, but their very presence is scary! Kick out your neighbors and steal their prime real estate while ensuring the same doesn't happen to you.
---
Eye for an Eye is a real time dice driven arena combat game featuring the adorable minions known as the Occulites (don't worry, there's also a turn based mode) as they do battle in various forms of arena combat including King of the Hill and Domination. If you're looking for a game where cute plastic monsters do battle, well…
---
Adrift: Lost at  Sea is a co-operative game about surviving a shipwreck and singing sea shanties – yes, there is finally a sea shanty singing board game. I don't know what else to tell you. You've either already clicked the link or there's nothing else I can do to convince you.
https://www.kickstarter.com/projects/sullyzack/adrift-lost-at-sea-a-shipwrecked-shanty-singin-car?ref=discovery
---
Thank you for reading the News Brief! Look out for our upcoming article, the Best Six Board Games That Came Out At Gen Con!
Published by BoardGamePrices.com