Board Game News Brief: 2nd May, 2018
Posted Friday, 4-May-2018
X-Wing Second Edition, adventures in the wasteland, and cute animalfolk – all this and more in this week's News Brief!
Chased down in a TIE Fighter by Calvin Wong
X-Wing, baby!
Fantasy Flight Games is rebooting their Star Wars dogfighting game after six years and a dozen expansion waves, citing balance issues and core design problems. (First edition owners: Your ships will all be compatible!)
The game is now more focused on flight and maneuver, while The Force, a new squad building app, and improved faction identities shore up the weak points of the first edition's shields.
FFG will be releasing conversion kits for all the ships in the first edition (grouped by faction) so pilots can grab a couple of these and be second edition ready.  What's next for X-Wing? We'll be hot on the six of any further updates as Gen Con news gets closer and closer.
---
Posthuman Saga soldiers on in the wasteland
The future has fallen – but some still survive. This sequel to Posthuman has been steadily exploring the wasteland and will now be ready to launch on Kickstarter next week.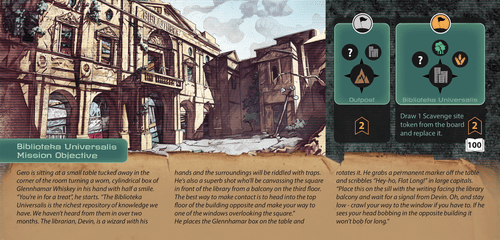 Have narrative encounters, fight deadly mutants, and make difficult choices in order to survive a collapsed Europe. I was a huge fan of Posthuman 1 and am super psyched to play the second game once it's out.
---
Dale of Merchants gets new Collection expansion
It's no secret that Dale of Merchants is one of BoardGamePrice's favorite card games – an adorable deckbuilder that can be as lightweight or cutthroat as you want due to its multiple decks of differently-themed animals – from the tricky ocelots to the wise owls.
The DOMC is an expansion and storage solution in one – the box is large enough to hold all 3 titles (with room for further sequels!) and adds player powers to the mix as well as six new animals including the wealthy tuataras and mischievous tasmanian devils. Look for more as the game draws closer to its Kickstarter launch.
---
Quickstarters
Our Quick Kickstarters this week: Hellboy, The Omen Saga, and Court of the Dead: Mourner's Call.
Designed by James M. Hewitt (Blood Bowl 2016, Necromunda: Underhive, Warhammer Quest: Silver Tower) and lifted from the pages of the iconic comic book series – investigate occult threats, explore gothic locations, hunt down clues, discover artefacts, fight horrific creatures and face off against terrifying bosses in Hellboy.
---
https://www.kickstarter.com/projects/kolossalgames/the-omen-saga?ref=thanks_tweet
Stunning art and epic myth combine in Omen: a two player card game of conflict and godly favor. As well as new components, streamlined rules, and brand new content for Omen: A Reign of War, this campaign brings the standalone Fires in the East expansion and the small expansion Tales of the Ancients – as well as allowing players to purchase previously printed expansions Edge of the Aegean and Gifts of the Gods. It's a lot to take in, but it's oh so pretty to look at.
---
https://www.kickstarter.com/projects/87981545/court-of-the-dead-mourners-call-board-game
Bone, flesh, and spirit coalesce in mortal struggle in Court of the Dead: Mourner's Call. A semi co-operative area control board game of underworld conquest, the grim art style and incredible miniatures come on top of a deep and rich game system from the publishers of The Thing: Infection at Outpost 31.
---
Game of the Moment
Tactical card game meets area control strategy in Crystal Clans, the newest release from Summoner Wars and Ashes publisher Plaid Hat Games. Two players face off as one of six unique clans (from Blood to Water, Flower to Stone) as they assemble squads of units to control the powerful crystals and gain their abilities.
A stunningly illustrated and lavishly designed card game, Crystal Clans is a game of razor sharp balance where where clever play can outdo brute force. I really loved my play of this game – it has BEE CAVALRY!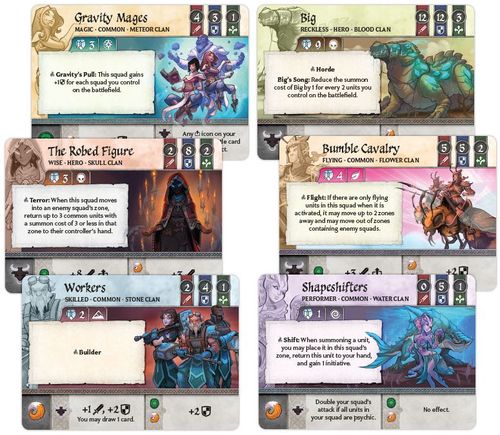 Plaid Hat will be supporting the game with a raft of Clan expansions coming in the summer, but for now this core set provides so many match ups and gorgeous illustrations it's going to be an easy wait.
---
Published by BoardGamePrices.com