Board Game News Brief: 15th August, 2018
Posted Thursday, 16-Aug-2018
Dungeons, item stores, Power Rangers, a whole new type of game – so much to talk about in this week's News Brief!
Dungeon Alliance reprint on Kickstarter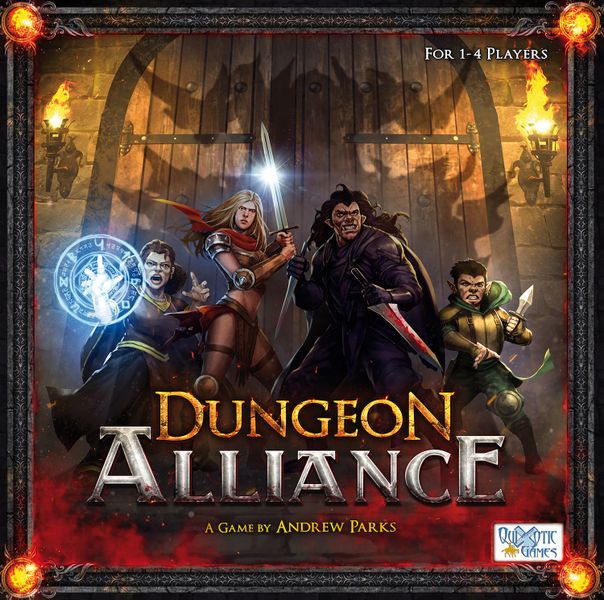 The Mage Knight-alike dungeon crawler is back! Core Worlds and Star Trek: Frontiers designer Andrew Parks saw a successful printing of the game in early 2017 and now wants to give you a reprint AND an expansion as well as narrative-based adventure packs.
Playable in competitive, co-op, and solo, Dungeon Alliance sees players putting together a team of heroes and requires some serious thought – this ain't no simple hack and slash.
Dungeon Alliance is on Kickstarter right now and is also kind of available in our store.
---
Keyforge: Call of the Archons
I was determined not to let this get lost in the Gen Con shuffle – Richard Garfield (Magic: The Gathering, King of Tokyo, Bunny Kingdom) announced a new game at the convention.
Keyforge (available for pre-order now) is a Unique Deck Game – meaning that aside from two introductory starter decks, every single deck you buy for this game is completely unique from every other deck in the world.
Nevertheless, the game allows you to pick up any two decks and smash them against each other in combat (with a handicap system should you find one player picks up their archetype faster) with even the starter set coming with two unique decks.
Players who want to get into battle card games but don't like the idea of having to construct decks or get into metagames and secondary markets should feel right at home with Keyforge. At the very least it's an excellent testbed for a whole new type of thing – and speaking of which…
---
Discover: Lands Unknown
Not content with making a game that has unique decks, Fantasy Flight has announced an exploration and survival game with different content in every box – which characters, lands, and items will you get? You'll have no idea until you open your copy.
Filled with lush and beautiful art and designed by Corey Konieczka
(Star Wars: Rebellion, Twilight Imperium, Imperial Assault) Discover looks like an amazing experience for those who want to, well, discover new things. More news as it comes.
---
Quickstarters
Bargain Quest is an adorable game about running an item shop that sells to heroes – Shut Up & Sit Down called it one of the best games in recent years, and the reprint is here along with the Black Market expansion to take your shop to the next, darker level. Check out the campaign!
---
https://www.kickstarter.com/projects/165626423/power-rangers-heroes-of-the-grid-board-game?ref=c4x54y
From designer Jonathan Ying (Bargain Quest, DOOM, Imperial Assault) comes a co-op game about the Kickstarter right now. Bash your way through putty soldiers, morph into the Megazord, and beat back Rita Repulsor's horde of evil as the iconic team. Kickstarter right now. I loved this show!
---
Finally we have Kickstarter right now, a card game about dark fairy tales with no randomness. Play as one of five factions with their own goals and alliances and try to defeat your opponent in battle. Grimmoir boasts an incredible look and zero luck – if that sounds your jam then Kickstarter right now.
---
And that's it for the News Brief! Thank you so much for reading. If you'd like to see what else is hot in the world of board games right now, check out our trending charts, which have been overtaken with fresh new titles hot with Gen Con hype.
Published by BoardGamePrices.com